PLACES:
SUPERARTIST BANKSY DOUBLES PUB'S VALUE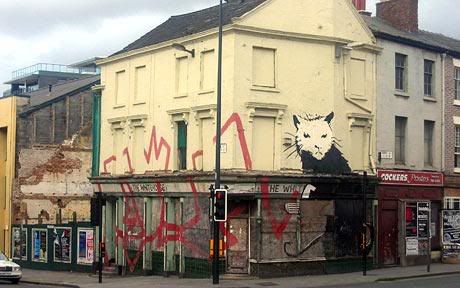 Former run-down pub in Liverpool has seen its market value soar after being targeted by 'Banksy' Photo: WENN
Telegraph: "The derelict building has been adorned with a giant rat, while the outer walls of the pub have been scrawled in red lipstick.
Banksy has used images of vermin throughout his politically-motivated work, and this particular piece of 'guerilla' artwork has attracted the attention of collectors.
The Whitehouse pub was originally estimated by local estate agents to be worth some £495,000, but its value has now doubled to around £1 million, as art dealers scurry to get their hands on it.
Liverpool estate agents Sutton Kersh, who are overseeing the sale, have reportedly been inundated with offers from excited buyers looking for safe investment.
Earlier this year, the artist's works defied the credit crisis with a sale fetching more than £350,000 at auction.
Despite his popularity, Banksy has zealously guarded his anonymity which has fuelled speculation about his anonymity which has fuelled speculation about his real identity."