FRONTPAGE| 3D| ART| BERLIN| BOOKS| COMICS| COMPUTING| DEUTSCHLAND| GAMES| HISTORY| MEDIA| MOVIES| MUSIC| MUTANTEN| PEOPLE| PLACES| POLITICS| POPCULTURE| PRODUCTS| SCIENCE| TV | WRITING
Comics:
DECISIONS - WHO WILL SUPERMAN VOTE FOR?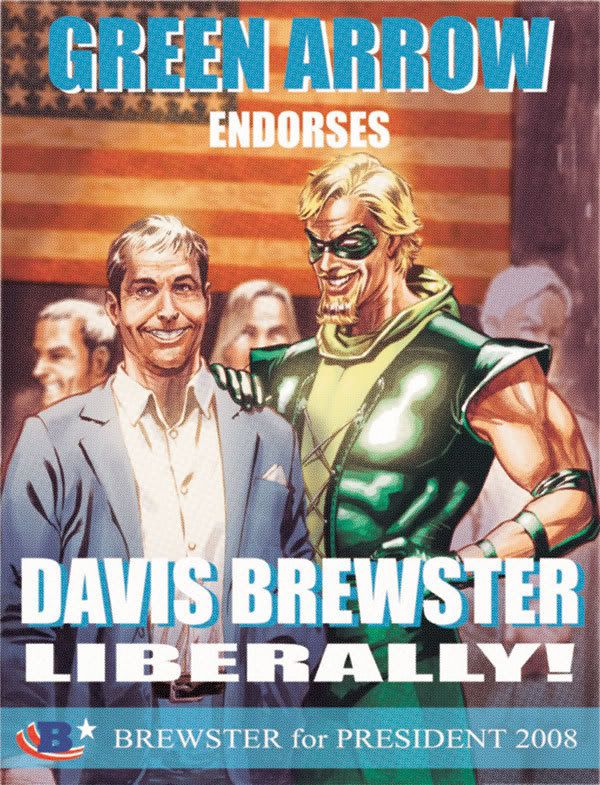 Even Superman will vote in the elections 2008. A new comic series deals with the real political views of DC Comics' fictional supericons.
From an Newsarama Interview: DAN DIDIO ON DCU: DECISIONS
"Dan DiDio: We're entering a very interesting election year this year, and what I think is important about it is that it's that there's this excitement – a sense of "building"…there's change in the air in regards to the whole political process that's at play in the United States. What we want to do is tap into that emotion, and tell a story that plays in the DC Universe with our characters, while using the political backdrop we're seeing now to help to define our characters better. (...) For the first time, we'll be having our characters make true political stands in regards to their leanings, as well as what motivates them to be heroes, and what they believe is necessary for their world and their country to move in the direction they believe to be the right one. That's the larger story.
NRAMA: What's the inciting incident here?

DD: An assassin in the midst of the heroes that's basically trying to disrupt and destroy the entire political process. In the opening sequence of the story, there is an assassination attempt on one of the candidates, which brings several of the heroes into the fold once they realize the scope of the conspiracy and more importantly, the impact that it would have on the government and the country. As the heroes are motivated and start to react to the assassination attempts, they start to express their own political beliefs, and start to discuss amongst themselves the importance of the process, and their role in the process. (...) NRAMA: So, as in our world, the platforms of the candidates end up touching everyone's lives in one way or another, that's not different in a world with superheroes – most likely the platforms mention or include superheroes.

DD: Right. And just like in our world, there are moderate beliefs, there are conservative beliefs, there are liberal beliefs. There are Republicans and Democrats. The process and what the various political beliefs and parties stand for remain the same. We'll be exploring those beliefs as they exist within the DC Universe."

(DCU - Decisions - Mini Series, Cover of #3, DC Comics)
ID - Stefan Ernsting - I have two books out, I work on cool movies and I've been blogging for 7157 days.
SUBSCRIBE TO BLOG | BOOKMARK BLOG

TOM censored
by tommyblank (10/1/10, 10:08 AM)
New York im Schnelldurchlauf -
Grosser Apfel mit Stellen Aus aktuellem Anlass und weil zahlreiche...
by tommyblank (8/18/09, 12:24 PM)
Sorry, this blog has moved!
Wait for the orientation videos over at my Homepage or...
by tommyblank (7/26/09, 3:24 PM)
READ ME FIRST! This blog
had many technical problems this year and it doesn't look...
by tommyblank (7/26/09, 3:03 PM)
THE NEW BLOG IS OPEN!
Over at popmoderne.wordpress.com! Tränen, Danksagungen, Kommentar zur Zukunft von Antville...
by -stern- (1/26/09, 7:24 PM)
WATCH MORE COOL DOCUMENTARIES FOR
FREE Harry says: "Our friends at Cinetic Media are doing...
by -stern- (1/10/09, 2:53 PM)

Chew the Fat (2008)

The Red Elvis (2007)
DER PHANTASTISCHE REBELL ALEXANDER MORITZ FREY oder Hitler schießt dramatisch in die Luft
(Atrium Verlag, Februar 2007)
DER ROTE ELVIS oder Das kuriose Leben eines US-Rockstars in der DDR
(Aufbau Verlag/Gustav Kiepenheuer)
Taschenbuch (7,95 € / 14,80 Sfr /3-7466-2261-1)
(Hardcover, 314 Seiten, 34 Abbildungen, 22,50 €)
Übersetzung:
David Wojnarowicz
Closes to the Knives

"Von Stefan Ernsting hervorragend übersetzt." (Bayrischer Rundfunk))