Comics:
ELTINGVILLE - THE PILOT EPISODE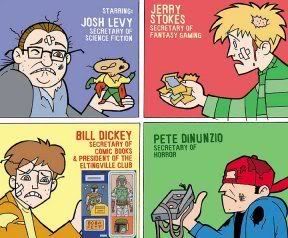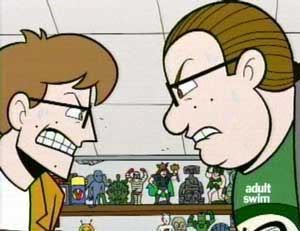 I've always been a fan of Evan Dorkin. Always! I read "Milk & Cheese" before it was even printed on paper. I even had that t-shirt Dorkin did for those funny punkers called "All you can Eat". And "Dork" is the funniest comicbook ever. EVER!!! It was funnier than "Hate" back when "Hate" was still one of the funniest books ever.
Don't forget to visit Evan Dorkin and Sarah Dyer's House of Fun in case you have no idea what I'm talking about.
Anyway, geeks, imagine a cartoon based on a series out of "Dork"! Oh, you heard about it already and you saw it on YouTube yourself the other day, but then again you were to busy sending out virtual Star Wars action figures to all your Facebook friends and you forgot to watch it. Well.... You can watch it over here!!!
Wikipedia: "Welcome to Eltingville" is the name of a comedy cartoon based on the Eltingville stories in Evan Dorkin's comic book Dork!. The pilot episode, titled "Bring me the Head of Boba Fett", premiered March 1, 2002, on Cartoon Network's Adult Swim programming block. (...)
The pilot introduces the four members of the Eltingville Club (...). It begins with a game of Dungeons and Dragons, where they are introduced as losers even in their own fantasy world. The boys then go through all the nerd clichés... lusting after science fiction babes (like Denise Crosby), sneaking into horror movies, collecting superhero and science fiction merchandise, and of course, going to their local comic book store."