TV:
MUPPETS - "SING" WITH VARIOUS CELEBRITIES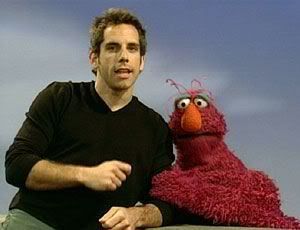 From Muppet Wikia: "Sing" was written for the first season of Sesame Street. It has been sung countless times on the show, with many different singers. Some versions have included the lyrics in both English and Spanish (the latter written by Emilio Delgado). Like "Bein' Green," it too has become an American standard. The song as covered by The Carpenters reached number 3 on the Billboard pop charts in 1973.
(...)
A celebrity montage has been seen on Sesame Street (EKA: Episode 3952) featuring Vanessa Williams, Nathan Lane, Conan O'Brien, Denyce Graves, Natalie Merchant, Patti LaBelle, Gloria Estefan, Katie Couric, Ben Stiller, Maya Angelou, R.E.M., Doug E. Doug, Ossie Davis, Garth Brooks, Fran Drescher, Noah Wyle, Terrell Davis, Ruby Dee, Rosemary Clooney, Bela Fleck and Mr. Noodle.
HERE IS THE VIDEO: Sesame Street: Celebrities Sing
An alternate version appearing on the What's the Name of That Song? home video release omits several individuals, but also includes The Dixie Chicks, Peter Jennings and Liam Neeson."