BOOKS:
"GRANDMA GETS LAID" BY KEN SHAKIN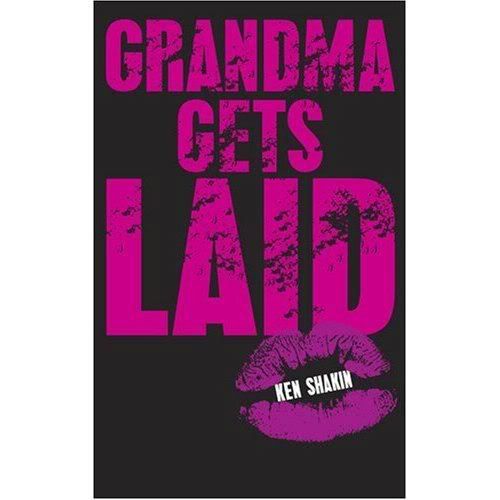 THE MOST DISCUSSED BOOK OF THE YEAR ALREADY!
Product Description If you could imagine William S. Burroughs, Lenny Bruce, and Jonathan Swift collaborating on a novel, Grandma Gets Laid would likely be what they'd come up with. A delicious, raunchy, outrageous satire, it will have you laughing out loud, wondering what could possibly come next, while reflecting so many aspects, strivings, and incongruities of our contemporary culture.
The plot might be described as a coming-of-age story of a middle-aged divorcee. It proceeds from the degrading premise that all any frustrated older woman needs is to get laid, Grandma seduces a younger man, a waiter at her daughter's cocktail party, only to conclude that a meaningful orgasm was indeed long overdo but not what she really needed. The smelliest man alive is good in bed but not someone you'd want to wake up next to, though the smell has a certain appeal. Then her TV breaks, her vibrator breaks, and the resulting void sparks a journey in search of what else might be missing in her life. Throwing caution to the wind she sets sail on a second adolescence, discovering along the way that each new fulfillment is still not quite what she needed, but better than watching TV with a vibrator between her legs. She moves into the city, makes friends and enemies, takes up singing and dancing, sex and love, drugs and God, even tries her hand at suicide and a life of crime. None of it pays, least of all the crime. When will Grandma grow up and act her age?
About the Author KEN SHAKIN is the author of Love Sucks (1997), Real Men Ride Horses (1999), and The Cure for Sodomy (2006). The New York native is a graduate of the Juilliard School, with a degree in piano. He presently lives in Berlin.
Coming out in June 2008!