TV:
SESAME STREET STREET GANGSTERS or THE BEST OF LEFTY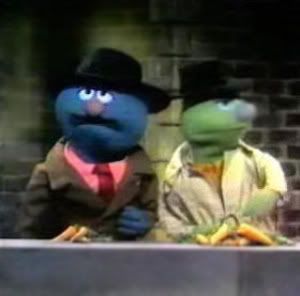 Sesame Street Gangsters - Muppet Wiki: "Although Sesame Street is meant to represent a child-friendly, and somewhat idyllic, New York City street, the neighborhood has a network of seedy underground criminal organizations. These groups are run by an assortment of suspicious characters, most commonly for the purpose of shady and illegal activities such as alphabet trafficking, black marketeering and robbery. Comprised mainly of Anything Muppets, these gangs are typically composed of a crime boss and his lackeys (often named Lefty)."
Lefty the Salesman - Muppet Wiki: "Lefty was a shady-looking salesman in a trench coat who appeared on Sesame Street. He spoke in a whispery voice and usually tried to sell Ernie such esoteric items as a letter U or O, an invisible ice cream cone, and an empty box. His sales pitches were rarely successful.
Lefty is best known for singing "Would You Like to Buy an O?" to a skeptical Ernie. "
Lefty was known as "Schlemihl" in Germany. Think about that!
Wikipedia: Schlemihl (im Original: Lefty, the Salesman), ein Händler in der Sesamstraße, trägt einen langen Mantel und versucht mit stets etwas dubios anmutenden Geschäftspraktiken seine Partner über den Tisch zu ziehen. Im Auftreten erinnert er stark an einen Schwarzmarkthändler, der illegal seinem Geschäft nachgeht. Legendär seine Versuche Buchstaben oder Zahlen zu verkaufen, wobei er regelmäßig mittels 'Psssst' auf die Exklusivität des Angebots hinweist."
Schlemihl - Wikipedia: "Der Ausdruck Schlemihl (von jiddisch: Schlamassel) bezeichnet in der ostjüdischen Kultur den sprichwörtlichen Pechvogel, Unglücksraben, Narren. "
Here are the best clips I found on YouTube:
"Lefty tries to sell Ernie an Invisible ice cream cone. Ernie pays with an invisible nickel."
"From 1972. Lefty can't get in until he gives the Secret Knock ... which shouldn't be too hard. Right?"
Would You Like to Buy an O? (Great song!)
Classic Sesame Street: The Golden "AN"
Classic Sesame Street - Lefty and the Carrots, part 1
"From 1971. Lefty the Letter Salesman tries his latest shady pitch on Ernie. "