POPCULTURE:
BATMAN#222: THE GREATEST DETECTIVE IN THE WORLD AND THE "PAUL IS DEAD"-MYSTERY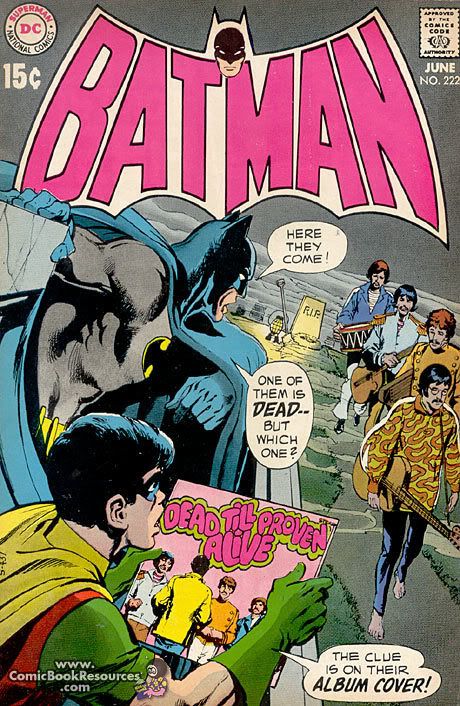 Kim mentioned this last night when we were talking about Denny O' Neill. Turns out this issue was written by Frank Robbins though. Anyway, this is a real classic! The whole issue is online: Scans of Batman#222
Wikipedia - Paul is dead ""Paul is dead" is an urban legend alleging that Paul McCartney of the British rock band The Beatles died in 1966 and was replaced by a look-alike and sound-alike. (...) The June 1970 issue of the DC Comics title Batman parodied the rumour with a story entitled "Dead...Till Proven Alive" in which it is rumored that "Saul" from the band The Oliver Twists was deceased and replaced with a double. Also, the cover of the album that Robin is holding in the comic's cover (after which the story was named) seems to be a play on the back cover of Sgt. Pepper's Lonely Hearts Club Band (in which the seemingly deceased member is facing backwards, like Paul was); the album's title on the cover (Dead Till Proven Alive) matches the title of the story. Frank Robbins' story concludes with the interesting twist that Saul was drawing attention to himself, because he was the only one who was still alive."